SLP500
---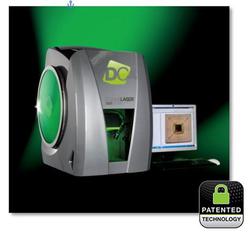 SesameLASERPLASMA500
​The Best Quality/Price ratio of
​the decapsulation Equipment in the market
---
Documents
Product Highlight
DIGIT CONCEPT introduces the New SesameLASERPlasma™ (SLP).
After 15 years of Research on combined LASER and Plasma Technology, DIGIT CONCEPT is pleased to announce the New SesameLASERPlasma™ (SLP), the Green way to decapsulate all types of IC with all types of wires materials (Al, Au, Cu, Cu/Pd, Ag ...).
The SLP500DC is based on our SL500DC platform. It combines a high performance IR Fiber LASER with an Atmospheric Plasma Assisted to avoid corrosion.This SLP is based on our joint patent with the CNES Toulouse (Fr) - WO 2008/090281.
SLP500DC Platform
3 in 1 system: The SLP500 allows to perform IC decapsulator, PCB cutting(*1) , samples cross-section(*1)

Flexible and Reliable : The SLP50 integrates a 10W IR Fiber LASER on basis. Laser or Lens upgrades are available to meet all you requirements. The SLP500 is equipped with a Live vision camera with Fast Z adjustment and a Coaxial camera with High Mag and FOV on request.

Easy and Safe: The SLP500 is a compact system, very easy to move. It can be installed everywhere in a workshop or on a production line and needs a simple mono-phased electric plug 110/220V - 50/60Hz. Plug it, you are ready to start

Many Options available: More power needed, Multipulse LASER ...
SLP500DC, THE FLEXIBILITY TO SUIT YOUR APPLICATION
(*1) required the cross section LASER option
Specifications
Laser ablation area up to 170x170mm with the 254mm lens
Atmospheric Plasma AssistedTM to avoid corrosion (*1)
Compatible with Au, Al, Cu, Cu/Pd, Ag wires
Quick focus with its lateral camera
Real time vision during ablation
Wide choice of FOV
Easy to use with its 2 intuitive software: Basic and Expert
Precise decapsulation using Xray and SAM images
Design your own gasket
Small footprint and easy to move
Fast upgrade on site
OPTIONS
LASER Cross-Section
Through Galvo-Head Camera
Cooler blast and cold table to reduce impact of temperature elevation of the die, fix the package and reduce ESD
Programmable X-Y table : 50x50mm or 100x100mm
---
Videos
---
---